"INSPIRING YOUR SOUL IN THE KITCHEN"
Trinity's Conscious Kitchen Retreats are Back! I will be holding my March 'Inspiring your Soul in the Kitchen' Retreat, here in Somerset,  from the 9th – 12th of March 2018. That's a whole weekend of divinely inspired, soul-infused, delicious together. Spaces are limited to 6 guests, to keep it personal.
With over 23 years experience of creating conscious cuisine, combined with my depth of spirituality and inter-connectedness with sentient life, it promises to be an uplifting and soul-inspiring weekend.
What sort of things will happen on the retreat?
The retreat begins with a delicious, Conscious Kitchen dinner to welcome you on Friday night. Followed by a guided celestial meditation with voice and crystal bowl sound healing. This offers the perfect time for you to settle in, let go and unwind before we begin our culinary adventures together on Saturday morning.
We'll look at creating tasty conscious dishes all weekend, whilst exploring the following topics…
The importance of preparing food with love
Why each type of food has a different vibration
How to eat consciously to raise your consciousness
Listening to your own inner kitchen wisdom
Integrating conscious foods into your daily rhythm
Learning about herbs, spices and the chakras
Learning which herbs, spices and foods dance together
It will be an experiential, hands-on weekend, where we'll explore how we can turn our kitchen endeavors into a joyous, moving meditation. This retreat will take you on a culinary dance, designed to inspire your adventuresome spirit in the kitchen. As well as creating tasty, conscious dishes, we'll be tuning into the energy of the key ingredients and understanding how they guide and speak to us.
This weekend retreat is a celebration, of love for the inter-connectivity of all life, with foods that can help to heal, inspire and raise our vibration.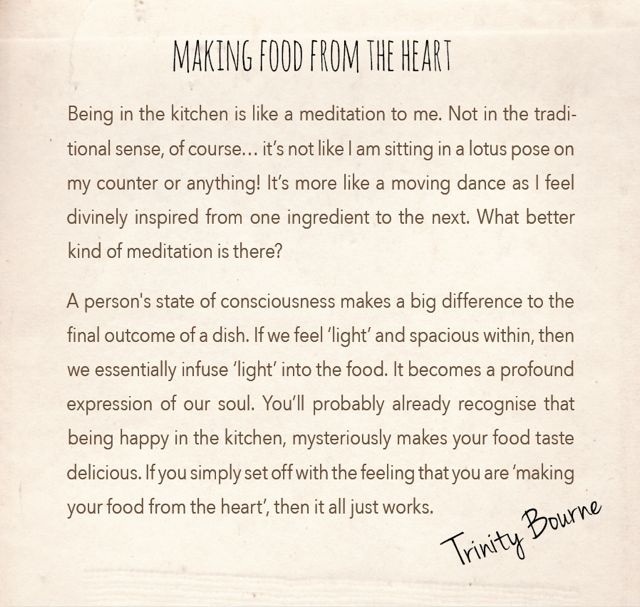 Who is this event for?
This weekend is suitable for anyone who resonates with my approach here at Trinity's Conscious Kitchen. It doesn't matter if you are new to making food in this way or if you are already experienced in the kitchen. The main theme is how to prepare food consciously and unleashing your soulful kitchen spirit.
Remember, the vibration you put into your body, is that which you're mostly going to feel in day-to-day life. So let's create those good vibes together with conscious cuisine!
It's all about being YOU and finding light & joy in the kitchen
There'll be lots of laughter and joy (I insist ha ha). We'll do varied activities, such as making edible mandala's with our lunch. We'll learn to connect with the essence of each ingredient and see who it 'speaks' to us.
Here's a short video I made of one beautiful lunch making session  on my first conscious kitchen retreat a couple of years ago…
There is no right or wrong during this weekend. This is all about being YOU! And finding your own unique expression in the kitchen (and that expression is different for us all).
Retreat accommodation
The retreat will be held in a gorgeous location in the Somerset countryside in the South West of England. We have a beautiful and spacious converted retreat barn with a large farmhouse kitchen, two living rooms and a big conservatory/sun room. We also have private walled gardens (only a glimpse of which is captured by these snapshots)…

The venue is located 15 minutes from Glastonbury, near Wedmore. It's only a 30 minute drive from Bristol airport.
Accommodation is very comfortable and is limited to 6 guests (plus myself).
There are 2 private double rooms (used as 'single' rooms) and 2 shared 'twin' rooms.
Retreat Prices
Retreat prices vary between £245 and £425 depending on your preferred option of accommodation. As well as the daily retreat workshop activities, this price also includes 3 nights accommodation and all meals.
Please see options below (offered on a first come, first served basis)…
£245 per person: (SPECIAL BUDGET PRICE) Twin room (with adult sized bunk beds – just like being a kid again ha ha) – includes a shared bathroom with a big bath and shower (shared with one other person). Best budget option
£345 per person: Twin room (twin beds with private ensuite bathroom)
£395: Double room (with double bed – with a shared bathroom which is shared with one other room)
£425: Double room (with double bed and private en-suite bathroom with shower and bath)
Timings: We gather from 5pm on the Friday and finish at breakfast on the Monday.
Booking a place or expressing interest…
If you are interested, have more questions or would like to book a place, please do email me right away (please also give me a contact phone number, just incase my reply goes into your spam folder). Remember places are limited. Just go to the contact page via the menu bar above.
I will reply within 24 hours, so if you don't hear from me, please do check to see if the email has been gone it to your spam folder (hotmail and gmail seem to do this a lot these days). You can also message me though the Facebook page.
I look forwards to welcoming you here soon!
Trinity
CONTACT HERE:
Click here for contact form: CONTACT TRINITY
I will reply within 24 hours.
Remember hotmail and gmail often block email addresses that they don't recognise,
so please also consider getting in touch with me through Facebook here: